Experience the Magic at Joob Joobs: Your Ultimate Birthday Party Venue with a Magician in Belfast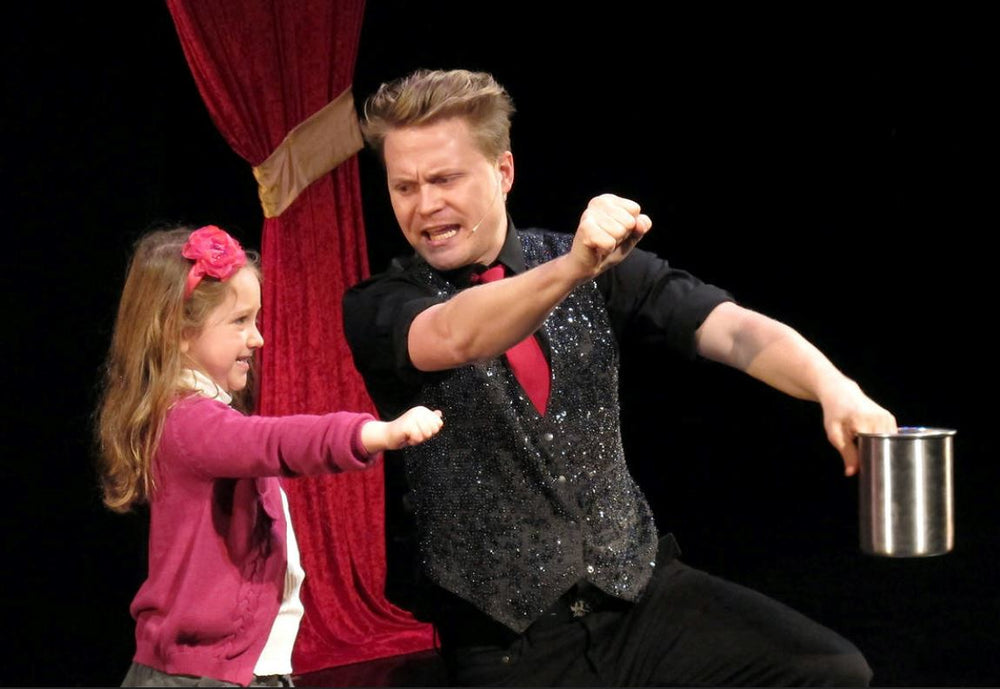 Experience the Magic at Joob Joobs: Your Ultimate Birthday Party Venue with a Magician in Belfast
Based in Belfast, Joob Joobs is much more than your traditional sweet shop. As well as offering a tantalising array of sweets and treats in-store and through our popular online store, we host spectacular birthday parties that are sure to create lasting memories. 
From bath bomb making to dance classes and friendship bracelet crafting, there is an activity for every child to enjoy. But what truly sets our parties apart is our exceptional children's magician in Belfast – an integral part of our party package that brings a sense of enchantment and wonder to every celebration. 
From the moment the party begins, our skilled magician captivates the young audience, ensuring a magical experience that your child and their friends will be talking about long after the party ends. With Joob Joobs, the magic of a perfect birthday party is just a booking away!
Joob Joobs: The Sweet Shop Where Magic Comes to Life
In the bustling city of Belfast, there is one magical sweet shop that stands apart from the rest, a place where candy-filled dreams come true and where magic is part of the party. This enchanting place is none other than Joob Joobs, a destination that not only offers a mouthwatering assortment of sweets and treats but also transforms into an unforgettable venue for birthday parties. And, the star of our parties? The mesmerising magician in Belfast that provides a fun, unique, and thrilling experience for every child in attendance.
The Star of the Show: Our Magician Belfast
At Joob Joobs, we understand that each birthday is a milestone, a special moment that deserves to be celebrated with an equal amount of joy, fun, and of course, magic. This is precisely where our magician for kids entertainment comes into play, offering an exciting blend of magic tricks that captivate the children's attention, leaving them in awe, and ensuring that their special day becomes a truly memorable one.
The magician in Belfast at Joob Joobs is no ordinary entertainer. Armed with a bag full of tricks, a contagious sense of humour, and a unique ability to connect with the little ones, our magician creates captivating illusions that both intrigue and entertain. From classic tricks like the disappearing coin to more elaborate illusions, the magic show is a riot of fun, laughter, and surprises. It is not just a performance; it's an interactive experience that allows the birthday child and their friends to become part of the magical journey, creating an environment of pure joy and excitement!
More Than Just a Performance: An Interactive Experience
But the magic does not stop at the show itself. The magician also encourages participation from the children, allowing them to learn a trick or two. This hands-on experience not only adds an extra layer of fun to the party but also stimulates their curiosity, creativity, and confidence. Imagine the thrill of a child successfully performing a magic trick in front of their friends!
Our entertainment for kids parties in Belfast kids reflects that each child is unique and adapts the show to match their interests and comfort levels. Whether you're from Newtownabbey, Dunmurry, Newtownards, Holywood, Lisburn, Antrim, or Portadown, our magician in Belfast ensures that the magic show resonates with them and their friends, making it the highlight of the party.
Enchanting the Wizards: Why Choose a Magician Belfast
There's something extraordinary about the power of magic that captivates the young and the young-at-heart alike. How better to treat fans of magic than with a real-life magician in Belfast at your child's birthday party? At Joob Joobs, our magical entertainers create a mesmerising experience that perfectly marries the charm of a sweet shop with the allure of spellbinding magic, ensuring an exciting, fun-filled day!
Our family-friendly magicians in Belfast conjure a magical atmosphere that reflects the essence of the wizarding world. Children will be spellbound as the magician masters tricks and conjures illusions that would make even the most seasoned wizarding student gasp in awe. The air fills with joyous gasps and laughter, as a simple birthday party transforms into an unforgettable magical extravaganza!
Waving the Wand: Interactive Magic at Joob Joobs
In the hands of our magician in Belfast, magic tricks aren't just tricks; they are stories, each more fascinating than the last. The children listen with anticipation as the magician recounts tales of mythical beasts and powerful spells, intertwining the tricks with an ongoing narrative that keeps them engrossed. The show becomes an immersive experience, with each trick acting as a chapter in a grand story, making the magic more tangible and engaging for the young wizards.
More than Tricks: Creating an Atmosphere of Fun
When it comes to our magician who produces one of the best magic shows in Belfast, it's not just about performing; it's about creating an atmosphere of excitement and fun. Our magician has a talent for connecting with children, understanding their sense of wonder and fuelling their imagination. Laughter, surprise, and joy fill the room as the magician cleverly combines humour with magic, creating a show that is as entertaining as it is mesmerising.
Moreover, the magician ensures that the birthday child feels extra special. From being the magician's assistant to receiving a special trick dedicated solely to them, the birthday child gets to feel the spotlight, creating memories they'll cherish long after their wizard-themed party has ended.
A Taste of Magic: The Joob Joobs Sweet Shop Experience
To cap off the magical experience, our Belfast store mirrors the atmosphere of the wizarding world. Rows upon rows of colourful sweets, chocolate, and treats, the scent of fresh candy wafting through the air - it's a sensory delight that perfectly complements the magical theme.
The best magician for a kids party is more than just an entertainer; they are a weaver of magical experiences, a teller of enchanting stories, and a bringer of laughter and joy. By merging the charm of Joob Joobs' sweet offerings with the fascinating world of magic, we ensure that every wizard's birthday party becomes a magical journey that leaves children and adults alike spellbound.
Letting Parents Relax: Entertainment Taken Care Of
Hosting a party at Joob Joobs also means that parents can relax, knowing that the entertainment is in good hands. Our experienced magician takes over the reigns of the party, keeping the children engaged and amused throughout the duration. This offers parents the much-deserved breathing space to enjoy the celebration themselves, chat with other parents, or simply watch their child revel in the magical experience.
Incorporating a magic show into the birthday party adds an element of anticipation and surprise to the event. From the moment the invitations are sent out mentioning a special performance by the magician in Belfast, the excitement begins to build! On the day, as the magician unveils trick after trick, the energy and laughter only grow, making the party a truly enchanting experience.
Ease the Planning Stress with Joob Joobs and Our Magician Belfast
It's a well-known fact that organising children's birthday parties can be a demanding task for parents. From selecting a perfect theme to arranging entertainment that keeps the kids engaged and excited, the list of considerations is seemingly endless. But what if we told you that at Joob Joobs, our magician in Belfast provides a fantastic solution that takes the stress away from the parents while ensuring an unforgettable party experience for the kids?
Sit Back and Enjoy the Show: A Stress-Free Party Experience for Parents
When you choose to host your child's birthday party at Joob Joobs, our magician in Belfast comes included in the package. This means you can strike off one of the most important items - entertainment - from your party planning checklist. No more researching, negotiating, and coordinating with external entertainers. Our professional, experienced magician is part of the Joob Joobs party experience, ready to keep the children mesmerised with their incredible magic tricks and engaging showmanship.

But the benefits for parents don't stop there. One of the joys of hosting a party at Joob Joobs is the opportunity to truly relax and enjoy the celebration. While our magician in Belfast takes centre stage and captures the children's attention, parents can sit back, watch the magic unfold and enjoy seeing the joy and amazement on their children's faces. It's a rare opportunity to be fully present in the moment, to socialise with other parents, and to truly celebrate your child's special day without the stress of managing the event!
Expert Party Management: From Setup to Cleanup
Booking a party at Joob Joobs means having access to a dedicated team of party professionals who understand how to make children's events special. From the moment you arrive, you're relieved of your party-planning duties. You don't have to worry about setting up, coordinating activities, or even cleaning up after the party is over. Our team takes care of everything, allowing you to focus on celebrating the day with your child.
Why Children's Entertainment is Essential for an Extra Special Party
And let's not forget the impact a magician in Belfast has on the overall party experience. Children's entertainment is one of the key elements that transform a regular birthday party into an extraordinary one. The enchantment of magic tricks, the suspense of what comes next, and the engaging storytelling of our magician all contribute to a party atmosphere that is vibrant, fun, and full of surprises. It's these elements that make a Joob Joobs party extra special and memorable.
Beyond Entertainment: The Interactive Magic Experience
Incorporating a magician in Belfast into your child's party is not only about providing entertainment; it's about sparking curiosity, encouraging participation, and creating a shared experience that all the children can enjoy. Kids won't just watch the magic happen; they'll be part of it! This active engagement is what sets our magician apart from other forms of entertainment, offering a unique, interactive experience that leaves a lasting impression.
A magician also adds an educational aspect to the fun. Magic can stimulate children's imagination and creativity, encourage logical thinking, and even boost their self-confidence as they learn and perform simple tricks. With our magician in Belfast, your child's party becomes more than just a celebration; it's a fun learning experience.
Relax, Engage, Celebrate: The Joob Joobs Party Promise
The inclusion of a magician in Belfast in the Joob Joobs party package offers a range of benefits for both parents and children. Parents can sit back and relax, safe in the knowledge that the entertainment is taken care of by a professional, and the party is in the hands of experienced event coordinators. Kids, on the other hand, get to experience a thrilling magic show that doesn't just entertain but engages and educates, making their birthday party extra special!
A Magician in Belfast: The Key to Memorable, Entertainment-packed Kids Parties
Children's entertainment plays a crucial role in transforming a kids party from good to great. It keeps the young ones engaged, happy, and helps create a vibrant, fun-filled atmosphere. Our magician in Belfast at Joob Joobs offers an incredible entertainment experience, captivating children with thrilling magic tricks and interactive storytelling. This not only keeps the party lively but also fosters curiosity and participation among kids. By choosing Joob Joobs, you're ensuring that your child's party is not just a celebration, but a magical adventure filled with joy, laughter, and unforgettable memories.
Making Memories with Joob Joobs and Our Magician Belfast
In essence, Belfast entertainment for kids is a key ingredient in our recipe for a perfect kids party at Joob Joobs. It adds an element of wonder, a touch of mystery, and a whole lot of fun to the celebrations. Combined with our range of exciting activities, delicious sweets, and vibrant atmosphere, it ensures that a Joob Joobs birthday party is a unique, magical experience that will be remembered fondly by children and parents alike.
So, if you're in search of an extraordinary venue for your child's next birthday party, consider Joob Joobs. With our magician in Belfast, you're not just throwing a party; you're creating magical memories for you child and their friends!
Posted: